2023 Trends in meeting room AV to look out for…
Evolving at a fast pace
Technology moves at a fast pace and although there may be few completely brand-new revolutionary products released there are always lots of improvements, technology updates & version releases for existing products.  
Trending
Recent developments and trends in the industry are focusing on improving the meeting experience and bringing meeting parity to all users, office and home workers alike. 
2023 brings new camera technology!
New concepts
Multiple cameras and 360 degree cameras on the tables are the latest trend. The focus here is on image quality and having a consistent, clear and close up view of all participants, doing away with the full table camera view where people at the back of the room can't be seen clearly.  
The multiple camera angles of all participants in the room compliments the traditional primary camera at the display location. All in one camera/mic devices can be positioned on the tabletop, ceiling suspended or placed around the room and AI intelligent framing allows seamless transition between cameras to capture participants at the right times. 
There are a few vendors playing in this space now; Huddly, Neat and Logi.  

New & improved video bars
Video bars are a very popular option for meeting rooms right now and with good reason. They are relatively easy to set up and easy to use, most are good quality and great value for money, particularly for small meeting rooms. There are many different options available on the market now. 
Poly have announced their new X52 video bar, with a massively improved 8mp camera, great clarity and picture quality at a distance.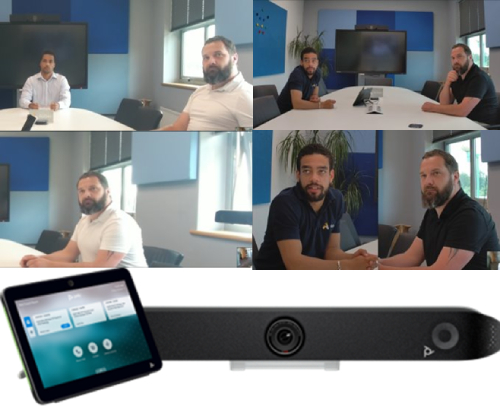 Cisco now have a new Room Bar Pro for medium sized spaces and their complete range of video bars for all sized spaces are now Teams certified for MS Teams rooms. 

What have we been hearing about audio?
Again, the focus is on making sure that everyone can hear and be heard equally well in their meetings whether they are in the room or remote. 
What's new?
Shure have released the first combined ceiling mic array and loudspeaker for small to medium sized rooms. This integrated device reduces clutter for a much cleaner interior design. Providing consistently good sound quality and great coverage in a single device, we think this delivers perfect audio at a more sensible price. 
Great acoustics!
Acoustic treatment is becoming more popular in the AV industry and rightly so. Many of us will have used meeting rooms with great technology in them but still experienced issues with poor acoustics and audio for a variety of reasons. Acoustic treatment is a surefire way to improve the audio quality in your meeting spaces.  
There are far more options available now for treating poor meeting room acoustics from noise cancelling microphone and headset technologies through to some great functional and fashionable sound absorbing meeting room furniture. 
What's new with displays?
21:9 is where it's at!
21:9 appears to be the way the industry is going. Microsoft are pushing their front row layouts and new aspect ratio screens. The wider screens are great for displaying content, image & chat together and are a much more natural size for whiteboarding too. Rather than the traditional dual screen options for boardrooms and large spaces the new aspect ratio displays are more aesthetically pleasing and much closer to how our eyes actually see things. We think it's possibly the closest to telepresence you can get at a lower price.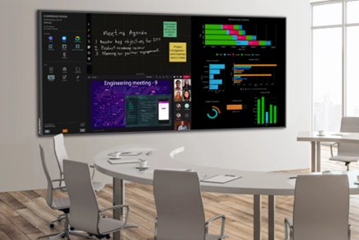 All-in-one flexibility
The range of mobile all-in-one interactive displays continues to grow amongst vendors like Neat and Yealink. These are fantastic collaboration tools that offer great flexibility.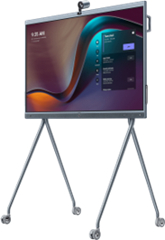 Powerful presentations
Technology improvements and updates here mean that devices like the ClickShare CX range offer flexible wireless conferencing in meeting spaces in addition to the content sharing capabilities of previous generation devices. ​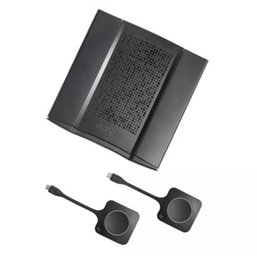 Maximising room & desk usage
Post covid and with the rise of flexible working, more and more companies started to look seriously at resource management options.  Resource Management platforms continue to develop to help staff plan ahead and make the most of their time in the office with the team and provide the business with valuable insights into how the workspace is being utilized. 
Find out more about Resource Management
Signage in meeting rooms
Digital signage in meeting rooms is very much a thing now. If you've got a screen in your meeting room, which most of us have, then why not make the most use of it by displaying some signage. There's a lot more choice available now too, with the newer vendors really focusing on ease of use. There are also some great content generation solutions out there, helping with the age-old issue of creating fresh, relevant content and keeping it up to date. 
Find out more about Digital Signage
Flexible AV support
Meeting room AV support is very much a must have, especially for mission critical AV. Increasingly we are finding many companies just don't have anyone on site full-time who can provide the inhouse support when it's needed.  Organisations are also realising that a one-size-fits-all approach is not the most cost effective way to support their meeting rooms and are looking for flexible support providers who offer the ability to mix and match differing levels of support according to their needs, size of meeting rooms and technology in the rooms. 
Find out more about Audio Visual support
We're here to help
If you have any questions about any of the recent AV trends or would like to see and compare any of the technologies then we'd love to hear from you. 
Talk to us
Arrange a demonstration