Can AV improve your workplace culture?
Enhancing your workplace with Audio Visual equipment
Choosing the right AV for your workplace and meeting rooms can most definitely enhance your company culture.
AV can help with many of your workplace tasks and requirements such as visitor registration, hot desk booking, meeting room booking, wayfinding, corporate communications and collaboration. The technologies available today give you endless possibilities to use your workplaces in smarter & more efficient ways.
But it's not just about the functionality and the tasks that AV helps you to perform, it's also about creating workplaces and meeting spaces that are easy and enjoyable to use. Places your teams want to visit and spaces that allow them to be more productive with greater quality & enjoyment. Workplaces that help to attract and retain the right people in today's challenging hybrid working environment.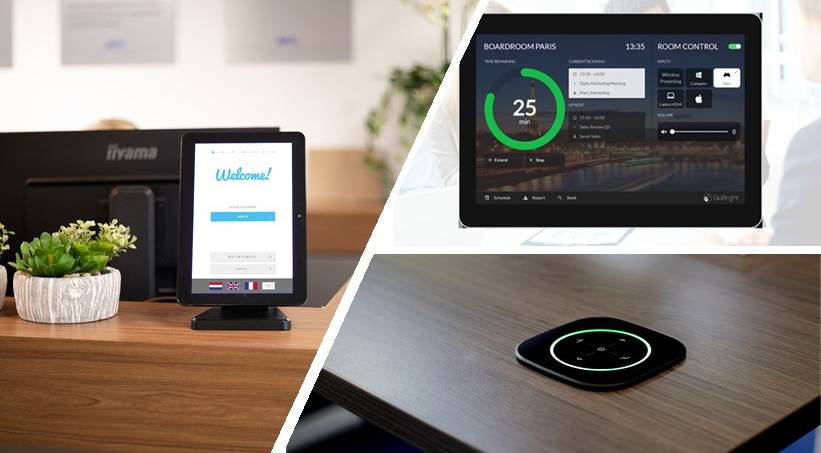 Having easy to use av systems that your employees want to use is proven to improve productivity, morale and communications.
Improved corporate communications
Digital signage is a great way of communicating with employees and visitors. Sharing important news, company announcements, goals, performance and employee achievements. Communication with employees is vital for a successful organisation. Digital signage contributes to improving internal communication, especially in a hybrid working environment. It can be a great motivator for your team. Colleagues who feel more involved and informed are happier and more productive.
Meetings that work for everyone
It's important that everyone has access to the technology wherever they are. Powerful and easy to use collaboration tools help to bridge the gap between those working in the office and those working remotely. Having the right technology ensures that everyone can participate equally no matter where they are joining from.
Better use of office space
Technology helps to support flexible and hybrid working and can boost productivity and efficiency. From huddle spaces to hotdesking and meeting room booking systems there are many opportunities to maximise the use of your workspace. Workplace management is far more than just being able to book your space, desk or room. Realtime usage data provides you with the knowledge to manage your meeting spaces and workplaces efficiently. Understanding how and when your spaces are being used, which are most popular and even those that are being under utilised provides great insight for future technology and meeting room investment.
AV in your workplace
The use of AV technologies in your workplace helps your teams to do better, work faster and with greater quality & enjoyment. Your meeting room AV enables easy, enjoyable & useful meetings that work for everyone no matter where they are working from.
We've been helping our clients' to av enable their workplaces for over 20 years. We'd love to discuss your workplace AV requirements.
Chat with us